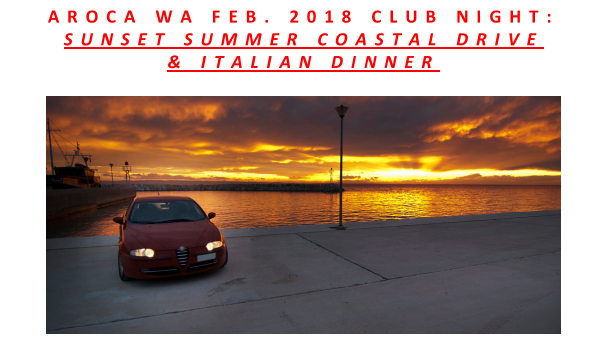 AROCA WA club night – February 6th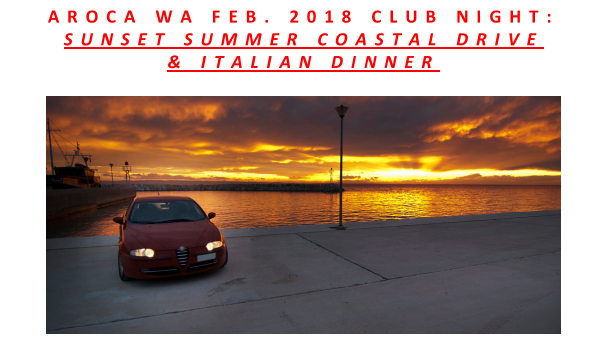 the first AROCA WA club night event for 2018 is coming up quickly. It will be held on the first Tuesday in February – i.e. February 6th.
Run Flyer link below
Sunset run from Fremantle to Mia Cuccina Restaurant at Hillarys Boat Harbour
The event will be an evening sunset run along the coast from Fremantle, ending at the Mia Cucina restaurant at Hilary's boat harbour for an Italian dinner.
We will meet at 6pm at a point near to the Fermantle station on Elder Place. There is plenty of space for cars to assemble in preparation for the run. (more details on this assembly point to come!)
A prepared route will take us past all the beaches as we head north, stopping along the way to view the sunset over the Indian Ocean.
We will meet for dinner soon after 7pm at Mia Cucina restaurant at Hilary's boat harbour for an AROCA WA club "special deal" set menu option dinner, priced at $23 including a glass of wine (see details in the attachment – but note that, while the title on this attachment says April 2016, it has come from Mia Cucina for our event on 6 February 2018.
There is no separate per person option payment available with this restaurant, so please note that you will need to bring sufficient cash for the meal – and any extras not shown on the attachment list. Club member's partners are certainly invited to join the event also.
Richard Peirce and I are organising this event and we would like to have an indication of numbers attending from you as soon as possible.
Please reply to this email indicating whether you will attend, and the number attending.
Also note that more details regarding the assembly point near the Fremantle station for the club evening run, the route of the run itself and the dinner etc., will be forthcoming in the next few days.
We do hope to see you at this coastal sunset run on Tuesday February 6th; our first club night event for 2018.
regards,
Greg Smith
Secretary AROCA WA